Halifax Personal Injury Lawyers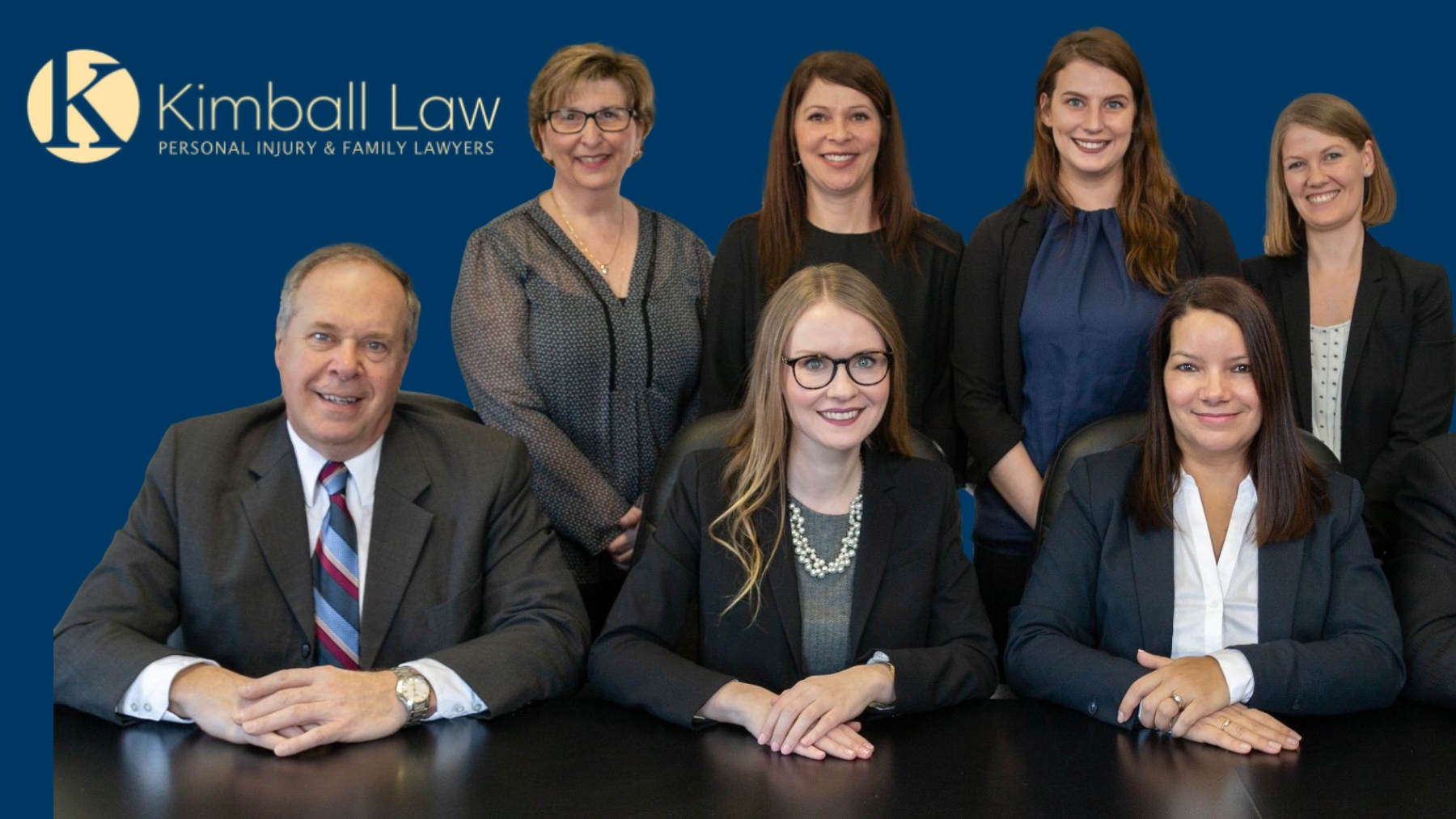 If you have been in an accident and have sustained injuries, you may also be facing a lengthy battle with insurance companies. If you want to receive compensation for your injuries and losses, you may need to seek out a Nova Scotia personal injury lawyer for help to navigate the process.
Most people would be happy for things to remain as they were before the accident. However, as you may know, the process of getting "back to normal" may be longer than expected. Your life may have even been permanently altered in some way. In addition to suffering emotional and physical pain, you may not be getting fair compensation to help you cover your medical expenses.
At Kimball Law, our Halifax personal injury lawyers understand that these are difficult times for you and your family. For that reason, we work to protect your rights and make sure that you get the benefits to which you are entitled. If you do not know what to do next or have questions about your personal injury claim, schedule a free consultation with our lawyers. 
What Is a Personal Injury Claim in Nova Scotia?
In Nova Scotia, a personal injury claim is a legal process for people who have been hurt in an accident or suffered a financial loss resulting from the fault of another or some type of negligence. With a personal injury claim, people might be able to obtain compensation for their injuries and financial losses.  
A personal injury case is a claim that is meant to hold someone accountable for causing you emotional or physical pain. This type of claim can also be applicable if the accident or negligence of another also caused you financial loss or damaged your property.
In simple terms, you can file a personal injury claim in Nova Scotia if you were in an accident that:
Resulted in

physical

injuries or

emotional

suffering.

Caused you

financial damage

.

Was

caused

wholly or partly by

someone else

.

Happened within the

last 2 years

. 
In Nova Scotia, a person filing a personal injury claim can recover compensation for the damages and expenses that they sustained as a result of the accident. This can include, but is not limited to:
Medical expenses

Loss of past or future income

Emotional and physical pain (pain and suffering)

Repairs or reimbursement for damaged property 
In some cases, accidents that resulted in injuries or financial losses might not be eligible for an insurance claim. So if you want to know if you have a claim, a Halifax personal injury lawyer may be able to help you understand your case.  
Types of Personal Injury Cases that We Handle
A personal injury claim might arise when someone's actions or negligence cause injuries or financial losses to another person. If you are in this situation, the lawyers at Kimball Law may be able to get you the fair and just compensation you deserve. Some of the insurance claims that we handle include:
Car and motor vehicle accidents:

if you were in a motor vehicle accident and you suffered injuries or damage to your vehicle, you can file a

car accident claim

for compensation to cover your losses and expenses. 

Long-term disability:

as its name suggests, a

long-term disability claim

is meant to provide income replacement for people that are no longer able to work due to a disability. 

Canada Pension Plan Disability:

"

CPP-D

" is a program offered by the federal government. It is designed to offer partial income replacement for people that are unable to work as a result of a severe and prolonged disability.

Slip and fall:

in Nova Scotia, occupiers of premises have the duty to ensure that it is safe for people to enter or be on their premises. If your

slip and fall

case is the result of someone's negligence, you could file for compensation. 

Pedestrian accidents:

being struck by a car can result in severe injuries, large medical bills, and loss of income. If you were hit by a motor vehicle when crossing the street or

biking

, you may have an injury claim. 

Fire and property damage:

these types of insurance benefits are meant to provide income replacement for the expenses and financial loss that result from

damage to your property

.  

Fatal and serious injuries:

if the injuries sustained in an accident are so severe that impair your return to work, you may be able to claim compensation from your insurance benefit or the negligent part. 
How Long After an Accident Can You Sue in Nova Scotia?
In Nova Scotia, the statute of limitation for a car accident claim is 2 years. In other words, you have two years from the day the accident is discovered to start a claim. If the claim does not start within this period of time, it may be considered invalid. 
Although typically 2 is the statute of limitations for these types of claims, personal injury law is complex and there are a few other considerations to keep in mind. For instance, what does "discovered" mean? It could be the day the accident happened, but the applicable laws are actually a bit more broad than that. Discovered could also, for example, be the day you realize the injury was sufficiently serious to warrant a proceeding. In some cases, there is also an "ultimate" limitation period of 15 years. 
There are also circumstances which warrant exceptions to the 2 year limitation period rule. For example, the limitation period does not run while the person who suffered the injury is a minor. Another example is a circumstance where the injured party can't bring a claim because of their physical, mental or psychological condition. 
Personal injury lawyers can be a huge asset if you've suffered an injury because they can untangle all the complicated laws and legal jargon and tell you, in simpler terms, whether they believe you have a valid claim. 
If you were injured in a motor vehicle accident, you can file for compensation within 2 years. In some cases, insurance companies may offer you a settlement a few weeks after the accident. To do so, they may give you forms to sign in order to receive your settlement. These forms will probably bar you from pursuing the claim further, even if you discover later on that the injury was more severe than you initially believed. 
Even though this payment may help with your future expenses, it might be in your best interest to not accept this first settlement. If you are unsure what you are signing or the possible ramifications of that, speak to a lawyer first to protect your rights.
Given that these types of claims depend on the severity of your injuries and how they affect your financials and your life, you may want to start receiving medical treatment before you accept any settlements. That way, you have time to understand what your injuries are, the effect that they may have on your daily life, and the expenses or loss of income that come with them. 
How Much My Personal Injury Claim Is Worth?
Although many people want to know the amount that they can receive for a personal injury claim, determining how much a claim is worth depends on different factors. For example, if you were involved in a car accident, your own insurance policy may provide you up to $50,000 for medical expenses. 
As explained above, determining how much your claim is worth depends on the type of accident you had, the terms of the insurance policy, among other factors. With a car accident claim, for example, you may access to your Section B benefits, which include: 
$50,000

for medical expenses incurred within 4 years from the date of the accident.  

80%

of gross weekly employment income. This weekly payment can be received for up to

2 years

.   

$2,500

expenses for funeral expenses incurred. 
If it is determined that you were injured at the fault of another person, their insurance company may provide compensation for the damages and suffering caused. As established before, this amount varies depending on the circumstances of each case. To determine the amount that you may be entitled to, you should speak to an injury and insurance claim lawyer. 
Advantages of a Kimball Law Personal Injury Lawyer
Oftentimes, people wonder if they actually need a lawyer to file a personal injury claim in Nova Scotia. Although you can negotiate with the insurance company and start the claims process yourself, having a lawyer on your side may improve your chances of a successful outcome. 
Some of the advantages of working with our personal injury lawyers include:
Contingency fee:

the lawyers at Kimball Law work on a contingency basis. This means that there are

no up-front costs or retainers

. In fact, we do not get paid unless we win your case.

Experience dealing with insurance companies:

a personal injury claim requires you to navigate through the legal system and negotiate with the insurer to collect the compensation that you deserve. With over 40 years of experience litigating at every level of court, our lawyers know how to build a strong case to negotiate a better settlement for you. 

Help you gather appropriate evidence:

like any other legal matter, a successful injury claim requires appropriate documentation that supports your case. Our lawyers will help you gather relevant evidence for your claim.

2-Track approach to protect your best interest: a personal injury lawyer will protect your rights and advocate for the compensation you deserve. At Kimball Law, we go the distance to get you the best result possible. We pursue a settlement, but we are also prepared to go to trial. 
Multiple Locations & Convenience:

with an office in Bedford to serve our Halifax clients and 2 offices in the Annapolis Valley conveniently located in Wolfville and Coldbrook, Kimball Law offers different options for meeting in person, as well as calls and virtual meetings. If you cannot come to us, we will come to you.
Contact a Nova Scotia Personal Injury Lawyer 
If you have been injured in an accident or by another person's negligence, you may be worried about your expenses and recovery process. And even though you may be entitled to a claim, if you are not familiar with the law, you may not know what to do next or deal with the nuances of your claim. 
Kimball Law is a personal injury law firm that represents clients with insurance claims in Halifax, Bedford, Wolfville, Dartmouth, Kentville, the Annapolis Valley, and surrounding areas. 
Our lawyers will listen to your story, explain the legal options available to you and provide effective legal representation if you choose to hire us. To book a free, no-obligation consultation, call us at 1 (902) 422-8811.
Should I accept the first offer on a personal injury claim in NS?
Insurance companies may offer you a settlement a few weeks after your accident. Although it can be a stressful process, sometimes it is not in your best interest to accept the first settlement offer. 
For instance, you might not know how severe your injuries are or how they will affect your life long term. Accepting the first offer might lead you to accept a settlement offer that is lower than you deserve.
How long does a personal injury case take in Nova Scotia?
Although it depends on the complexity of the case, overall, a personal injury case in Nova Scotia could take between 6 months to several years. 
Quick settlements are not always in the client's best interest because your recovery may be slow and your injuries permanent. However, a personal injury lawyer may be able to help make this process easier to understand, more manageable, and less stressful for you.
How much do personal injury lawyers charge?
Most personal injury lawyers work on a contingency basis. This means that there are no legal fees unless your case is successful. In this case, lawyers will recover a percentage of the claim they won. Disbursements may be payable regardless of the success of your case.
At Kimball Law, we discuss any major expenses with you before they are charged to you and explain the reason for any expense. If you want to know if your claim has merit, schedule a free, no-obligation consultation with our lawyers.
Is my claim a "Cap" case?
In Nova Scotia, minor injuries that are the result of a motor vehicle accident are limited under the Insurance Act and Regulations. Do not assume that your injuries are limited by the Cap legislation, even if that is what you are being told. Even if you suffered a sprain, strain or whiplash associated disorder, you may be outside of the Cap.